NASA's Perseverance mission to explore life in Mars' Jezero Crater
[the_ad_placement id="adsense-in-feed"]
Weekend Read
Red Planet Mars' surface has been visited by eight NASA spacecraft. The ninth will be the first that includes gathering Mars samples for future return to Earth.
NASA's next mission to Mars — the Mars 2020 Perseverance mission — is targeted to launch from Cape Canaveral Air Force Station no earlier than July 20, 2020. It will land in Jezero Crater on the Red Planet on Feb. 18, 2021. Perseverance is the most sophisticated rover NASA has ever sent to Mars. It will search for signs of ancient microbial life, characterize the planet's geology and climate, collect carefully selected and documented rock and sediment samples for possible return to Earth, and pave the way for human exploration beyond the Moon. With a chassis about 10 feet (3 meters) long, Perseverance is also the largest, heaviest robotic Mars rover NASA has built.
[the_ad_placement id="content-placement-after-3rd-paragraph"]
Perseverance will also ferry a separate technology experiment to the surface of Mars — a helicopter which weighs only about 4 pounds (1.8 kilograms) named Ingenuity, the first aircraft to fly in a controlled way on another planet. Ingenuity is intended to demonstrate technologies needed for flying in the Martian atmosphere. If successful, these technologies could enable other advanced robotic flying vehicles that might be included in future robotic and human missions to Mars. Among the possible uses of a future helicopter on Mars: offering a unique viewpoint not provided by our current orbiters high overhead or by rovers and landers on the ground; high-definition images and reconnaissance for robots or humans; and access to terrain that is difficult for rovers to reach. A future helicopter could even help carry light but vital payloads from one site to another.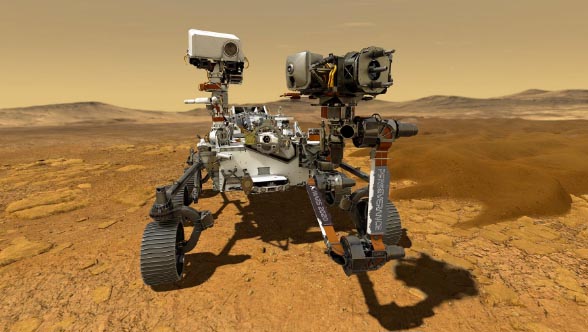 NASA's first rover on Mars was modest: Sojourner, the size of a microwave oven, demonstrated in 1997 that a robot could rove on the Red Planet. NASA's next Mars rovers, Spirit and Opportunity, were each the size of a golf cart. After landing in 2004, they discovered evidence that the planet once hosted running water before becoming a frozen desert. The car-sized Curiosity rover landed in 2012. Curiosity discovered that its landing site, Gale Crater, hosted a lake billions of years ago and an environment that could have supported microbial life. Perseverance aims to take the next step, seeking, as a primary goal, to answer one of the key questions of astrobiology: Are there potential signs of past microbial life, or biosignatures on Mars?
Jezero Crater on Mars is a 28-mile-wide (45-kilometer-wide) crater on the western edge of Isidis Planitia, a giant impact basin just north of the Martian equator. The crater was a possible oasis in its distant past. Between 3 billion and 4 billion years ago, a river there flowed into a body of water the size of Lake Tahoe, depositing sediments packed with carbonite minerals and clay. The Perseverance science team believes this ancient river delta could have collected and preserved organic molecules and other potential signs of microbial life.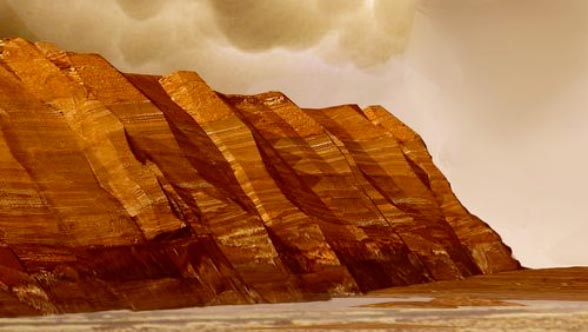 Mars orbiters have been collecting images and data from Jezero Crater from about 200 miles (322 kilometers) above, but finding signs of ancient life on the surface requires much closer inspection. It requires a rover like Perseverance. Understanding Mars' past climate conditions and reading the geological history embedded in its rocks will give scientists a richer sense of what the planet was like in its distant past. Studying the Red Planet's geology and climate could also give us a sense of why Earth and Mars — which formed from the same primordial stuff — ended up so different.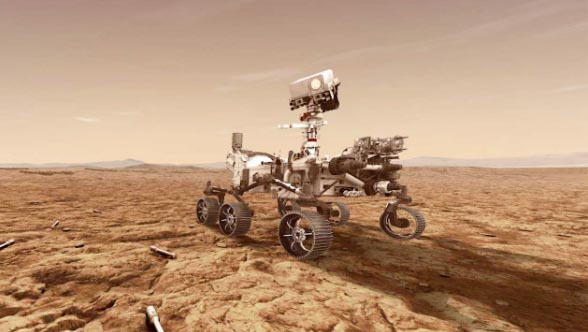 The verification of ancient life on Mars carries an enormous burden of proof. Perseverance is the first rover to bring a sample caching system to Mars that will package promising samples for return to Earth by a future mission. Rather than pulverizing rock the way Curiosity's drill does, Perseverance's drill will cut intact rock cores that are about the size of a piece of chalk and will place them in sample tubes that it will store until the rover reaches an appropriate drop-off location.
A Mars sample return campaign is being planned by NASA and the European Space Agency because here on Earth we can investigate the samples with instruments too large and complex to send to Mars. Examining those samples on Earth will provide far more information about them than even the most sophisticated rover could provide.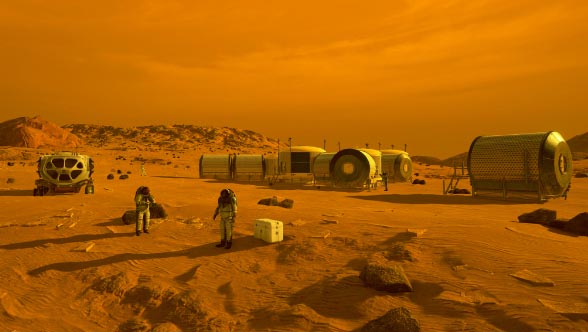 Perseverance carries instruments and technology that will pave the way for future human missions to the Moon and Mars. Among the future-looking technologies on the Mars 2020 Perseverance mission that will benefit human exploration is the rover's Terrain-Relative Navigation system. Part of the landing system, Terrain-Relative Navigation is the main reason Perseverance can explore a place as interesting as Jezero Crater. It will enable the rover to quickly and autonomously comprehend its location over the Martian surface and modify its trajectory during descent. This technology will be able to provide invaluable assistance for both robotic and crewed missions landing on the Moon and is a must for future robotic and crewed exploration of Mars.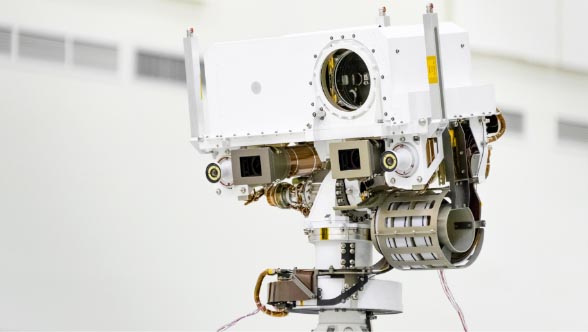 Engineers have also given Perseverance more self-driving smarts than any other rover, allowing it to cover more ground in a day's operations without having to wait for engineers on Earth to send up instructions. Calculated over the length of the mission, this fast pace can translate into more science. This fast-traverse capability (courtesy of upgraded sensors, computers and algorithms) will make exploration of the Moon, Mars and other celestial bodies more efficient for other spacecraft.
Perseverance also carries a technology demonstration — a proof-of-concept experiment — called MOXIE (Mars Oxygen In-Situ Resource Utilization Experiment). This instrument will produce oxygen from Mars' carbon dioxide atmosphere, demonstrating a way that future explorers might produce oxygen for rocket propellant as well as for breathing.
The Mars Environmental Dynamics Analyzer (MEDA) instrument suite will also be key for future human exploration, providing information about the current weather and climate, as well as the nature of the dust on the surface. The Mars Science Laboratory Entry, Descent and Landing Instrumentation 2 (MEDLI2) package, a next-generation version of what flew on the Mars Science Laboratory mission that delivered the Curiosity rover, will help human exploration, too, providing data about the entry and descent of the spacecraft through the atmosphere.
The Mars 2020 Perseverance mission carries more cameras than any interplanetary mission in history. The Perseverance rover itself has 19 cameras that will deliver images of the landscape in breathtaking detail. The other parts of the spacecraft involved in entry, descent and landing carry four additional cameras, potentially allowing engineers to put together a high-definition view of the landing process after the rover safely touches down on Mars.
Source: NASA Launch Press Kit
[the_ad_placement id="sidebar-feed"]